Our Orthodontic Office in Mannheim in the City Quarter Q6Q7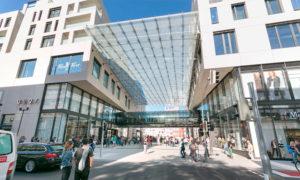 Since March 2017 you can find our orthondontic practice in one of the most beautiful places in Mannheim: the new city quarter Q6Q7. Covering an area of 270 square metres we have designed a modern and spacious orthodontic office. Thanks to a well thought-out colour concept, a modern building technology and extraordinary art on the walls the light-flooded rooms offer a thrilling atmosphere. Moreover we place great emphasis on an inviting ambiance, which is important for our patients' well-being during their stay. Not only are the rooms designed in a friendly way, they are air conditioned because we would also like to welcome you to a comfortable and stress-free environment during the summer. In order to contrast the medical efficiency and scientific thinking we used original art work – twelve oil paintings by Hans Brosch (Berlin) – which create an extraordinarily strong atmosphere (www.hansbrosch.de).
It is our declared aim to offer top class orthodontic treatment for all our patients. In the course of orthodontic treatment we want to achieve the best results, the shortest therapy duration and the least social disadvantages in an inviting ambient where our patients are aware of being in our main focus. In order to hold a high consistency in quality, all doctors and dental assistants undergo continuous professional education to keep up with the state-of-the-art and offering it to our patients.
Moreover our concept is patient-oriented – which means our patients' needs and wants have first priority. We see our primary role in presenting meaningful possibilities of current orthodontic treatment options and stand by your side during the decision process as medical advisors. As deviations from an ideal tooth or jaw position have no significant disease value and aren't often in need of treatment, being an advisor is more favourable than being an omniscient doctor which is unfortunately still the case in orthodontics. We want to offer a patient- not a doctor-oriented model.
Our certified quality management ensures all treatment steps are performed in compliance to the constant instructions and with absolute traceability.