Aesthetics in Orthodontics
Many orthodontic appliances are often perceived as unaesthetic because they are visible when speaking and laughing. In particular, adult patients often ask and demand for possibilities of an aesthetic or invisible orthodontic treatment. They often inquire about appliances that have a nice appearance even for the duration of treatment.
Ceramic Brackets
This is considered to be one of the most simple and cost-effective options of aesthetic treatments. Usually, ceramic brackets are bonded only in the visible area in young patients, especially on the upper front teeth and premolars. Tooth-colored ceramic brackets are made of a glassy, ​​transparent material and are much less noticeable than metal brackets. They still require a shiny metal wire and ligatures which are definitely visible. This type of bracket is not recommended for extensive treatments because they are extremely brittle and split easily. Most orthodontists offer these brackets. In our former practice and in Mannheim, we've used these brackets for a long time but they are only a good choice for simple tooth correction.
Invisalign
We have started utilizing Invisalign as one of the first orthodontic practices in Germany. In the meantime we've treated more than 200 patients with Invisalign in our office in Mannheim and in our former practice. That's why we know the possibilities and limits of this system quite well. Though little special knowledge is needed, not all orthodontists offer the Invisalign system. We have been working with the Invisalign system since its market launch in 2001 and therefore have great experience with this form of treatment.
While other aligner products are competitive for treatments of smaller extent, Invisalign is significantly cheaper for medium and larger treatments. Above all, Invisalign is the most technically advanced aligner product and the only one that can handle even complex treatment tasks. Working on a high quality standard, our orthodontists still prefer Invisalign though there are a lot of competing orthodontic appliances.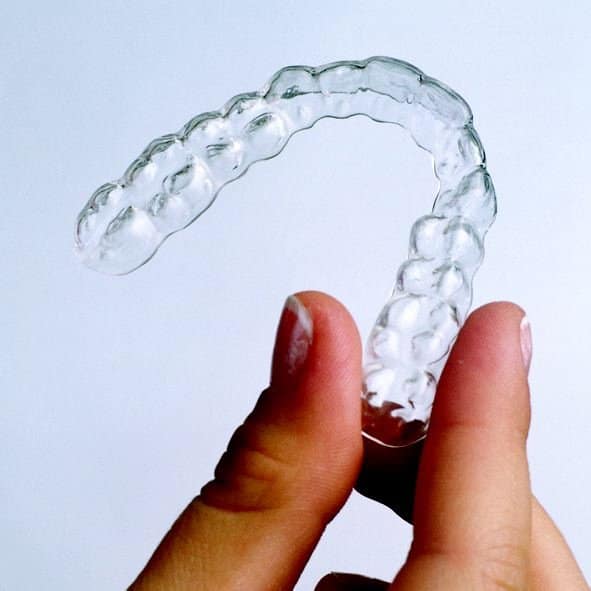 Lingual Braces
The term "lingual braces" refers to a method where the braces are attached to the backside of the patient's teeth and are practically invisible from the outside. The lingual technique is the only really invisible treatment method, because aligners such as Invisalign can be seen very well in the usual short distance when talking to each other. This method allows the completion of extensive, difficult treatments of adults within a reasonable period of time.
The lingual method is challenging in regard to technique and skill. These treatments only work out well if the lingual technique is used so much in an orthodontic practice that routine enters the workflow. For this reason, only few orthodontists offer the lingual method, and even fewer are really experienced in lingual braces. As one of the first practices we have been working with the lingual method since 1999. We can assure a smooth course of treatment because we've completed over 100 treatments by now.
Our orthodontic practice in Mannheim is certified for the lingual technique with Incognito and WIN. Since the market launch of WIN in 2013 we have preferred to work with the WIN appliances.
You can find further information about the lingual technique on our topic page: www.die-lingualtechnik.de
Information about WIN: www.lingualsystems.de
Information about Incognito: www.lingualtechnik.de