A short introduction
1962 born in Kiel
1983 – 1988 studies of dentistry at the University of Kiel
1988 – 1989 occupation as dentist
1990 – 1992 specialty training in orthodontics at a office in Mannheim
1992 – 1993 specialty training in orthodontics at the University of Würzburg
1993 certificate in orthodontics
1993 established orthodontic office in Ludwigshafen
1994 doctorate studies, critical analysis of "biological-holistic" treatments in orthodontics
1998 license for further training: since October 1998, dentists are trained in orthodontics in the office
2001 – present publishing and lecturing activities
2002 – 2008 supervision of the section "What's new on the dental scene – Browsing through the dental literature" for the "Journal of Orofacial Orthopedics", the official scientific journal of the German Society of Orthodontics (DGKfO); with special focus on prosthetics, oral surgery, temporomandibular dysfunction (TMD)
2017 established my second orthodontic office in Mannheim
2018 Conversion of the orthodontic practices in Mannheim and Ludwigshafen into medical care centers (MVZ)
2020 Sale of the orthodontic practice in Ludwigshafen, full concentration on the orthodontic practice in Mannheim
My special interests
My special interests are the efficiency increase of orthodontic treatments, the treatment of adults, the "invisible" treatment utilizing the lingual technique and Invisalign, the non-compliance-therapy for children and youths and the treatment of patients with functional disorders (jaw joint and chewing apparatus). I have been using the lingual technique – invisible treatment with brackets on the inside of the teeth – since 1999. I have been offering Invisalign, a method of straightening teeth with thin, transparent aligners, since its market launch in 2001.
Maximum efficiency of the treatments – i.e. achieving good results in minimum treatment time and with the least effort possible – is a central goal.
Using computers in order to improve diagnostics, treatment planning and patient information is another focal point. The digitization of the practices in Mannheim and the former practice in Ludwigshafen has resulted in constant innovation over the years and has just progressed with the introduction of our iTero intraoral scanner – a fascinating process!
The fundament of all activities is the concept of evidence-based medicine, which I think is highly productive and therefore the future of medicine.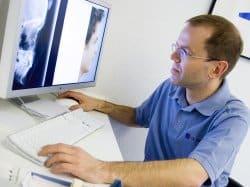 Publications
You can find my publications here.
Memberships
Certified for