Invisalign®: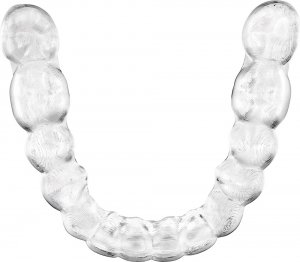 This treatment procedure, which was introduced by Align Technologies in the US at the end of the 1990's, involves the use of transparent, removable appliances which are called aligners. Invisalign and other aligners are barely visible when the person is talking and they do not usually impede speech at all, so they are offered for aesthetic treatment in adults. However, like all removable appliances, they do have a limited effect and are really only suitable for treatment procedures of easy to moderate difficulty. Since Invisalign and some other aligner products were introduced onto the German market in 2001, they have also been in common use here and, when used properly, are a sensible and tried and tested treatment method.
Invisalign and other aligners must be worn 22 hours a day. They are supposed to be taken out for eating and brushing teeth only, so much discipline is needed for Invisalign treatments. After a few days wearing new aligners are used, which straighten the teeth step by step. The former wear time which was specified by Align Technology was 14 days, but today it's only 7 days. For most Invisalign patients, a 10-day interval seems a fair compromise. If a satisfactory result isn't achieved at the end of the Invisalign treatment, up to three series of additional aligners may be ordered, the manufacture of which is already included in the treatment price and will not be charged extra. A correction set is needed by most patients. If there is more need for correction, the suspicion of bad cooperation is usually obvious.
Invisalign has continued to develop the aligner therapy. Improved plastic material for the aligners, bite splints for bite raising, torquerails, and a range of optimized attachments have been introduced. The attachments are small tooth-colored buttons on the teeth which allow Invisalign a better grip and thus more tooth movement. Thus, the treatment spectrum that can be safely treated with Invisalign has been steadily expanded.
Invisalign was recognised as a suitable treatment procedure following a revised statement by the German Association of Orthodontists in 2004. However, costs for this treatment are not covered at all by the statutory health insurance companies, and will only be paid by the private insurance companies if you complain enough, so that it has therefore repeatedly come to performance claims for refusal reimbursement. These lawsuits have regularly led to positive court rulings condemning private health insurance for reimbursement. Nevertheless, patients have to fight here again and again.