SPEED Bracket
This is a self-ligating bracket (part of the fixed brace) made by the Strite company in Canada. It is the oldest of all the self-ligating brackets on the market today and has been continuously improved. It is a so-called active self-ligating bracket which means that the locking clip slots into the bracket very easily and is also relatively easy to control with thin round wires.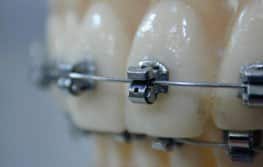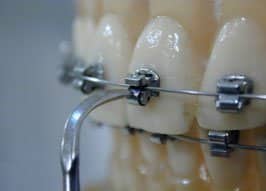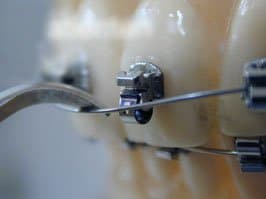 The SPEED-Bracket can easily be opened with common scalers.
In comparison to the passive self-ligating brackets (InOvation, Damon, Smart Clip, Carriere) SPEED shows negligibly more friction between the bracket and the wire which is of little clinical importance. Orthodontists who use the SPEED-bracket for treating children and adolescents always get to the stage where they can use a 019×25 steel arch after just 10-12 weeks which is impossible to achieve using passive ligating brackets. This is not only based on self-ligation but is also connected with the fact that the SPEED-bracket is one of the smallest on the market: this means that the free spaces between the brackets are bigger making the whole system more flexible. Even the locking mechanism functions better than in most of the competitive products.
The SPEED-bracket is the most advanced and the best thought-out self-ligating bracket on the market.